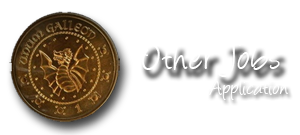 Admission Department
If you couldn't find any jobs in the other topics that suits with what you want for your character ,we hope that at least you will find something here. The list includes both jobs and professions .You will find the difference between the two in the next lines .We really hope you enjoy your role playing experience and if you think we need to add any new jobs just create a new thread at
Suggestion Corner
Thank you for your time
As we said in the message ,there is a big difference between JOBS and PROFESSIONS. Jobs you can get easy by just applying in this thread and if you application fits with what we are looking then you will be accepted.
On the other hand the Professions usually ask for the graduates/adult to take an exam(N.E.W.T.s exam) from 2 specific subjects for each profession .Even if you register as an adult for getting a profession you will have to take the N.E.W.T exam that will be sent to you after you apply for one of them.
In order to get one of these please create a new topic with the following name [Application]-Your Name and at the description add if you are applying for a job or a profession.
Available Jobs (you get paid 50 galleons/month)
Hogwarts Caretaker
Healer
Magazine Journalist (For any age)
Editor in Chief (For any age)
Working at the radio (For any age) (Paid 70 galleons/month)
Hogsmeade
You can work for:
-Dervish and Banges
-Madam Puddifoot's Tea Shop
-The Hog's Head
-Three Broomsticks Inn
-Honeydukes
-Zonko's Joke shop
Diagon Alley
- Ollivanders Wand Shop
Available Professions(for any profession added to your character you win +50 Galleons for your monthly salary)
Herbologist
–In order to become an herbologist you have to take both Herbology and Care of Magical Creatures N.E.W.T
Arithmancer
–You need to pass the Arithmancy and History of Magic N.E.W.T
Charmer
-For becoming a charmer you have to pass both Charms and Defence Against the Dark Arts exam.
Curse Breaker
- Need to pass Transfiguration and Defence Against the Dark N.E.W.T
Apothecary/Alchemist/Potioneer
-Herbology and Potions N.E.W.T
Magizoologist/Dragonologist
- History of Magic and Care of Magical Creatures N.E.W.T
Astronomer
- Astronomy & Muggle Studies
Jobs Application
Cod:

[i]Your Name:

Your Character Age:

Jobs you are applying for:

Any experience in this field:

Why you have chose this job:

How active you are on the forum?:

Why do you think you deserve this job?:

A High Quality RPG Example (any situation-minimum 300 words):
[b][center]©2011 Hogwarts Magic Realm –Do Not Copy [/center][/b]
[/i]

Profession Application
Cod:

[i]Your Name:

Your Character Age:

When he/she graduated Hogwarts(if you are an adult put a random date):

Please Describe your Character's Personality

What Profession/s are you applying for?:

Why have you chosen this Profession?:

A Quality RPG Example(minimum 400 words-practicing your profession) :
[/i]
[b][center]©2011 Hogwarts Magic Realm –Do Not Copy [/center][/b]

©2011 Hogwarts Magic Realm –Do Not Copy